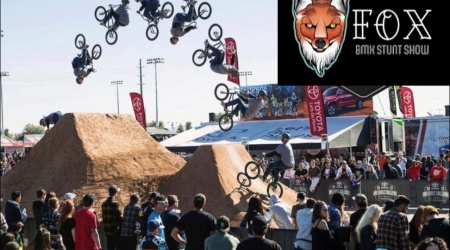 FOX BMX Stunt Show
The high energy list of performers stacked with some of the best riders in the country including the Owner of Fox BMX Stunt Show, Brian Fox, who has an XGames medal, just received 3rd place at the World Cup representing the USA, and is currently competing for a position on Team USA for the 2024 OLYMPICS in Paris. The athlete line-up also includes artists from around the world who have performed for top-notch entertainment companies such as Cirque du Soleil.
Show Schedule:
· Friday, March 24th
1:00 p.m. – 1:30 p.m.
3:00 p.m. – 3:30 p.m.
5:00 p.m. – 5:30 p.m.
7:00 p.m. – 7:30 p.m.
· Saturday, March 25th
11:00 a.m. – 11:30 a.m.
2:30 p.m. – 3:00 p.m.
4:30 p.m. – 5:00 p.m.
6:30 p.m. – 7:00 p.m.
· Sunday, March 26th
11:00 a.m. – 11:30 a.m.
2:30 p.m. – 3:00 p.m.
4:30 p.m. – 5:00 p.m.
6:30 p.m. – 7:00 p.m.
**Car Clubs from all around the Georgia Area, Atlanta Classic T-Bird Club, Georgia Regional Mustang Club, Georgia Broncos, Golden City Cruisers, GTO Club, Hagerty, North Georgia Camaro & Firebird Association, Peach State Corvettes, and Viper Club of Georgia.**
Through their #SubaruLovesPets initiative, Subaru of America and its retailers have helped more than 230,000 animals find homes. Please visit the Subaru booth at the Atlanta International Auto Show to adopt a furry best friend!
IWag, Metro Atlanta's only full service non-profit dog care facility, will be in the Subaru display with pets available for adoption each day of the show. Here are the hours you can view available pets and meet with IWag's representatives: