Page 8 - 2019 Auto Show Guide
P. 8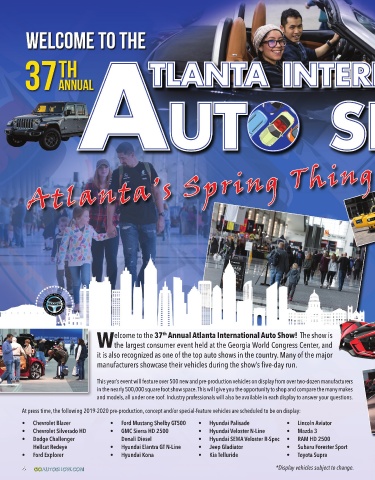 elcome to the 37  Annual Atlanta International Auto Show!  The show is
                                                      th
                                 Wthe largest consumer event held at the Georgia World Congress Center, and
                                 it is also recognized as one of the top auto shows in the country. Many of the major
                                 manufacturers showcase their vehicles during the show's five-day run.


                                 This year's event will feature over 500 new and pre-production vehicles on display from over two-dozen manufacturers
                                 in the nearly 500,000 square foot show space. This will give you the opportunity to shop and compare the many makes
                                 and models, all under one roof. Industry professionals will also be available in each display to answer your questions.

        At press time, the following 2019-2020 pre-production, concept and/or special-feature vehicles are scheduled to be on display:

        •   Chevrolet Blazer         •   Ford Mustang Shelby GT500  •   Hyundai Palisade       •   Lincoln Aviator
        •   Chevrolet Silverado HD   •   GMC Sierra HD 2500       •   Hyundai Veloster N-Line  •   Mazda 3
        •   Dodge Challenger             Denali Diesel            •   Hyundai SEMA Veloster R-Spec  •   RAM HD 2500
            Hellcat Redeye           •   Hyundai Elantra GT N-Line  •   Jeep Gladiator         •   Subaru Forester Sport
        •   Ford Explorer            •   Hyundai Kona             •   Kia Telluride            •   Toyota Supra

        4   GOAUTOSHOW.COM                                                                 *Display vehicles subject to change.